By Danny Restivo
For nearly three decades, scientists have worked to refine three-dimensional printing techniques, but early attempts to adapt the technology into a manufacturing business model failed. Now 3-D printing, also known as additive manufacturing, has the potential to become a disruptive force in the global economy.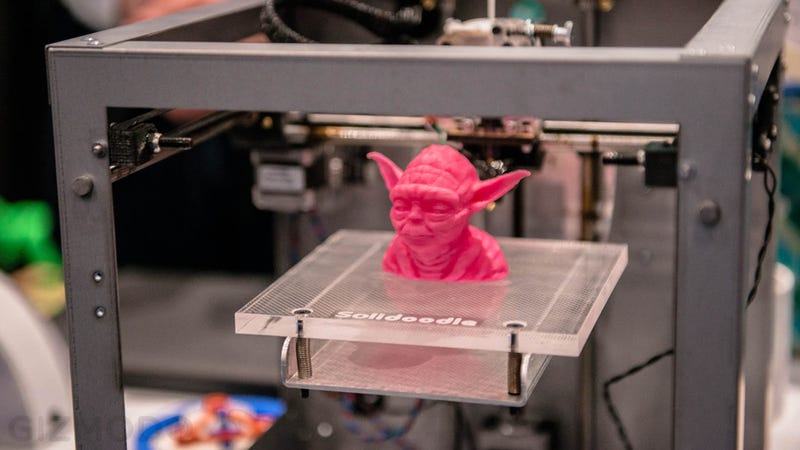 Many analysts believe it can have the same type impact on manufacturing as the birth of the assembly line did. With the help of computer-aided design technology, 3-D printers can create customized pieces of plastic, metal, ceramics, rubber and other materials in a decentralized location. Whereas traditional manufacturing technology uses subtractive production methods, such as molds, additive manufacturing uses successive layers of chemical powder or liquid.
As manufacturers refine additive technology, 3-D printing has become a rising production method in a number of industries. From 2014 to 2016, the additive manufacturing industry grew by roughly $2 billion, according to Wohlers 2016 report. Moreover, global spending on 3-D printing totaled $11 billion, with growth expected to reach $27 billion in 2019, according to PricewaterhouseCoopers. The report also said that 42 percent of manufacturers expect to use 3-D printing in the next 3-5 years.
While additive manufacturing technology remains an expensive investment, companies in a variety of sectors have begun producing select items in an effort to save on long-term costs and undercut competition. Here are four industries where additive manufacturing can alter the business and regulatory landscape.
Medical
Medical devices have become a lucrative market for manufactures, reaching $381 billion in 2015, and creating a ripe opportunity for additive technology. Forecasters expect the sector's 3-D printing market to grow by a compounded annual growth rate of 17 percent for the next 10 years, equaling $1.5 billion. A 3-D printer allows medical specialists to create customized implants or prostheses within a hospital setting. The projected increase in 3-D printed material stems from an aging population, diabetes-related gangrene cases and arthritis.
In May of 2016, the United States Food and Drug Administration released draft guidance on technical considerations for medical devices produced with 3-D printing technology. The guidelines focus on design and manufacturing, as well as testing and validation. The guidance does not veer from the FDA's traditional manufacturing rules, but they do emphasize material control and testing protocols. So far, the FDA has approved 85 medical devices using 3-D printing.
Three months earlier, Aprecia Pharmaceuticals released the first 3-D manufactured pill, Spritam, which is used to treat patients with epilepsy. The drug was made with a printer that stitched together a powdered formula, which dissolves during ingestion. Spritam's introduction has raised the prospect of customized pharmaceuticals that allow doctors to tailor prescriptions for a patient, before sending it to a pharmacy where it's printed.
While the FDA has not addressed 3-D production of cell tissue or organs, researchers are in the early stages of developing it.
Aerospace
Experts believe the global 3-D printing market will grow by roughly 56 percent from 2016 to 2020, accounting for 15 percent of all 3-D printed material. Additive technology has the ability to produce precise parts for custom needs, all while reducing material costs. The growth stems from a demand for lightweight metals and engine parts to cut down on fuel costs.
General Electric has used a 3-D printer to produce a portion of an engine that weighs five percent less than a traditional engine system, which ultimately received Federal Aviation Administration approval. The savings was enough to reduce fuel burn by one percent. In December, GE acquired a German and a Swedish 3-D printing company as part of a $1.5 billion investment in additive manufacturing technology. In March, Airbus entered into an agreement with Alcoa after the lightweight metal producer expanded its additive manufacturing capabilities with a $60 million investment in a Pittsburgh area facility.
Additive technology also has the ability to significantly reduce manufacturing production time. In August, Boeing (in partnership with the Department of Energy's Oak Ridge Laboratory) created a trim-and-drill tool. The 17.5 x 10 feet piece of ABS thermoplastic composite weighs roughly 1,650 pounds, and will help build the wings for Boeing's next-generation 777X jet, which is scheduled to begin production in 2016. Whereas traditional manufacturing produced a similar tool within three months, Boeing and ORNL's Big Area Additive Manufacturing machine took 30 hours.
The Federal Aviation Administration has not issued any guidelines for aerospace companies using additive technology. Although in June, the FAA and the U.S. Air Force did issue a joint report following a workshop that emphasized the need to further research aircraft using AM parts, especially structural metal alloys.
Automotive
In 2014, Local Motors, a low-volume auto manufacturer based out of Phoenix, became the first company to produce a 3-D printed vehicle from ABS-Carbon Fiber. Shortly after, Honda and Ford announced they would begin using additive technology to produce particular auto parts. According to some estimates, 3-D printing could help the auto industry generate roughly $600 million by the end of 2016, and $2.3 billion by 2021.
Additive technology has proven primarily beneficial in the creation of customized tools used in the production process. Instead of purchasing a tool and waiting for it to ship, auto producers may be able to design and create a specialized metal device within hours. As a result, lead times and production costs could be significantly reduced.
While large 3-D printed metal parts might not be economical for vehicle use, it's only a matter of time before researchers refine a lightweight metal for family vehicles. Federal fuel guidelines have increased the need for auto companies to save on fuel costs, and creating lightweight materials has been a key area of focus.
However, because vehicles are produced to operate in extreme climates, the material used must be able to face a variety of durability factors. Currently, there aren't enough composite resources or high strength polymers to significantly influence high volume producers like the Big Three.
Firearms
As the federal government gives additive technology a significant degree of freedom in certain industries, they have come down hard on gun manufacturers. In September, the Fifth Circuit Court of appeals ruled that Defense Distributed could not distribute 3-D printing files for the manufacturing of firearms via the Internet. In 2013, the Texas-based organization came into conflict with the State Department after allowing Internet users to download 3-D printing instructions for untraceable firearms using a plastic polymer.
Based on the Undetectable Firearms Act, any firearm not detected by a metal detector is illegal; therefore, all firearms must have a metal component. Furthermore, based on the 1968 Gun Control Act, anyone who manufactures firearms in America must be licensed and issue serial numbers. 3-D printed firearms do not have any such oversight. However, Defense Distributed attempted to circumvent the law, and allow people to upload the content online.
In May 2013, following the Defense Distributed's announcement that it had successfully printed a non-metal firearm, the Department of Homeland Security released a statement that said:
"Significant advances in three-dimensional (3D) printing capabilities, availability of free digital 3D printer files for firearms components, and difficulty regulating file sharing may present public safety risks from unqualified gun seekers who obtain or manufacture 3D printed guns."
Conversely, first and second amendment advocates have cited their constitutional right to print firearms. In light of the court's ruling, California has passed legislation outlawing 3-D printed firearms, while Rep. Steve Israel (D-NY) has introduced legislation that would ultimately ban firearms from using plastic. However, Israel retires in 2016 and the responsibility to push his legislation will fall to the bill's cosponsors.